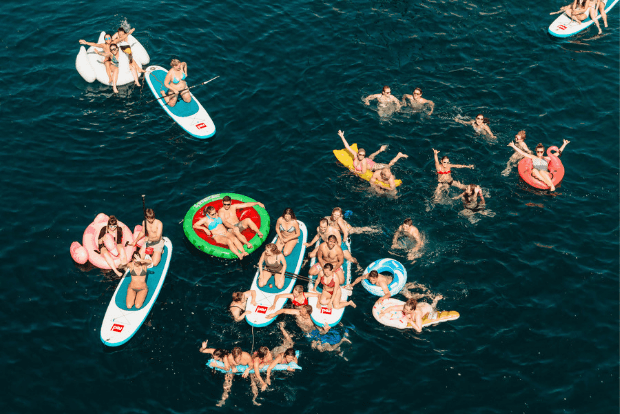 Im Blue (Da Ba Dee Da Ba Die): How To Keep Cheery On A Blue Monday
By Ryan Brown published on January 21, 2019
We know, #MondaysSuck, or at least they can if you are daydreaming of faraway places but you happen to be stuck in "reality". Whether you're crawling out of a warm bed dreading starting the work week, daydreaming of sandy beaches and sun while trapped in winter, or simply overwhelmed by the feeling of wanderlust taking hold and need a pick-me-up, you need escape. You need something, right? We have just the right cure for those Monday blues.
What's the cure for unbearable Monday blues you ask? Well, that's easy…just add a bit of water! Here are our top tips to keep cheery this blue Monday!
Sweat (and Glory)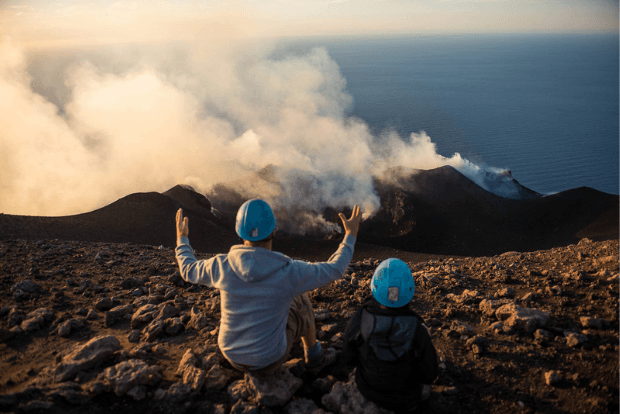 "The cure for anything is salt water: sweat, tears or the sea." – Karen Blixen
They say (whoever they are) that a bit of physical activity can boost any mood, and paired with glory of an accomplishment afterward will pick anybody up from the dumps. This is exactly why MedSailors believes in including a bit of heart-pumping and sweat-inducing activities to partake in during a sailing holiday.
Let's take Stromboli for example: Imagine the feeling of hiking up an active volcano, volcanic vents smoldering all around as you climb the deep red incline. Sweat is beading on your forehead, heart is thumping, and muscle ache as you reach the peak and overlook the beautiful islands and blue sea below with the lava erupting in the orange clouds of the setting sun. All worries dissipate knowing you fought to get that breathtaking view, pun intended.
Pretty exhilarating huh? That's just one of the many moments you can break a sweat for a taste of glory and cure those blues.
Tears (of Laughter)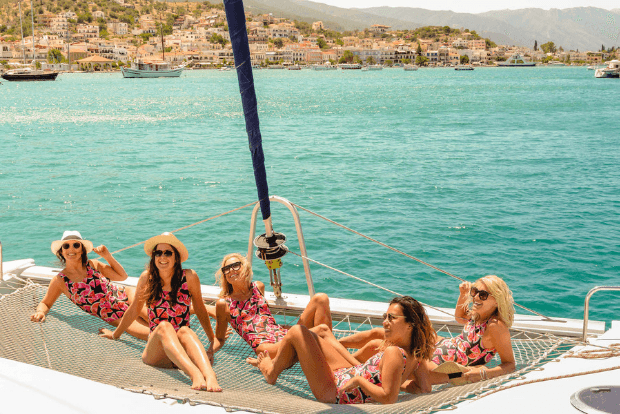 "Always laugh when you can. It is cheap medicine." — Lord Byron
The best part of an adventure is the people you share it with, and whether you're travelling with friends or meet a group of awesome mates along the journey, theirs bound to been unforgettable moments and endless good times. And a boat is definitely the place for that.
From those hilarious quotes you've got to write down from one of the crew throughout the week, to the failed backflip (to backflop) attempts that leave you crying with
laughter. The flailing about as everyone tries to slip and slide their way across the paddle board run, and the dance-offs that are bound to happen along the way — tears will be flowing. And that's a good thing.
Oh, and we can't forget those hilarious moments when you're being whipped around on a tube in Greece holding on for dear life and watching your boat mates get thrown off. Victory is yours! And your cheeks will ache from laughing too much.
It's true, laughter is the cure for whatever ails, and there'll doubtless be endless moments of it followed by tears. But we will be honest, there may be some good tears, but also sad tears. Tears as you see off your new besties made on the sailing holiday, but even that's not a bad thing. Because it's not goodbye, it's see ya later, and you're already planning the next awesome adventure together!
The Sea (Cures All)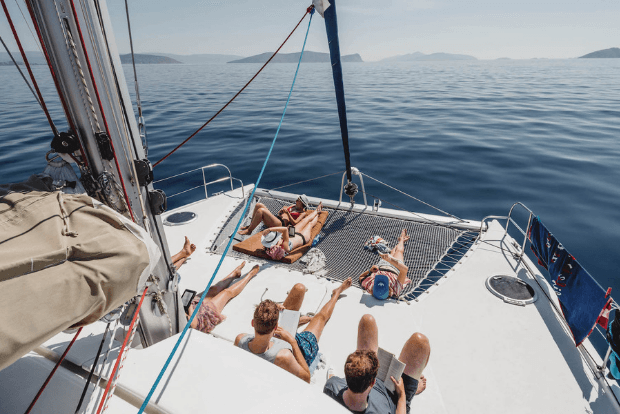 "The sea, once it casts its spell, holds one in its net of wonder forever." – Jacques Cousteau
The main cure to the blues is the blue itself…the sea! Everything about the sea makes life better, and it's exactly why we're addicted to life at sea. As you sail around from island to island, you'll discover a growing addiction and love for the sea, and you might never want to leave because of all those positive feels it gives you.
From the calming sound of waves, to the refreshing feeling of that first morning swim, to the serene and solitude moments paddle boarding around a stunning bay — it doesn't get much better than this. We know the cliché motto #ineedvitaminsea, but there is a reason everybody needs a dose of vitamin sea, because it will be the cure to all life's woes. At least we think so…
To sit back, relax and have any worries or stress drift away with the wake and wind while you soak up the sun and sail away to better days is what everybody deserves. And it is that ultimate cure to Monday blues, or any blues for that matter.
Hope that mood has been boosted a bit, but the ultimate cure for Monday blue's will be knowing that MedSailors adventure you've been dying to go on is approaching, so stop waiting and book now!