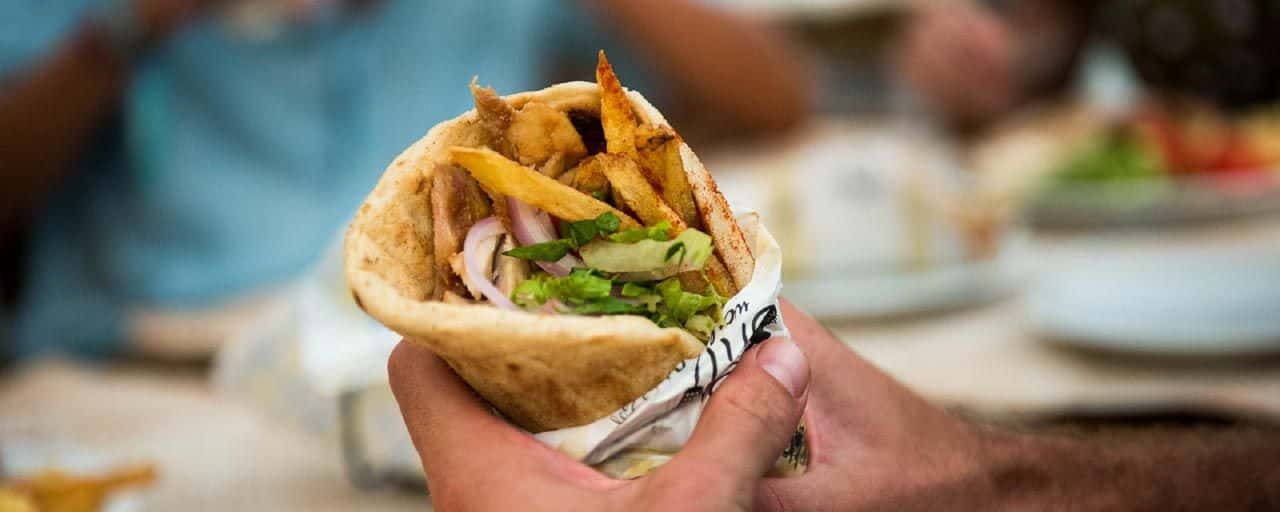 How to Sail the Mediterranean on a Budget
By Ryan Brown published on May 19, 2023
Are you looking for ways to sail the Mediterranean on a budget? It's easier than you think, but it takes some planning and know-how to make your travel budget go as far as possible. If you follow a handful of tips on the best ways to stick to your budget, you'll make the most of the summer on your sailing holidays.
We've gathered our top recommendations to make your 2023 sailing adventure as budget-friendly as possible!
Take Advantage of Early Bird Prices
What is the best way to save money when you book a summer holiday? Book ahead. This tactic is one of our biggest tips to sail the Mediterranean on a budget, saving BIG bucks. When you book far enough in advance, you can usually score epic trip discounts to help pad your budget for meals, activities, and nights out!
Currently, there are some awesome ones to take advantage of with MedSailors!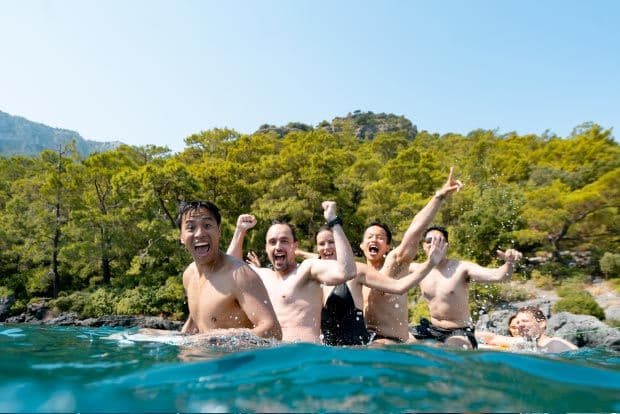 Book a Yacht with Your Mates
Though we always encourage solo travel, travelling with friends is an easy way to save money. Not only does it help to share expenses for food, drinks, and activities, but booking as a group gives you a group discount!
For your sailing holiday, if you can gather some mates, you'll save heaps, and by booking a whole boat, you can get even more discounts. That means more cash for those Aperol evenings on the bow.
Bring Your Toiletries and Sun Supplies
When figuring out how to sail the Mediterranean on a budget, bringing your own toiletries and sun supplies will go very far to help. Sunscreen is comparable to gold in sun-soaked destinations, especially when bought near the beach. Since many locations you will visit are smaller seaside towns, toiletries will be pricier. Pack some of these essentials to avoid sticker shock.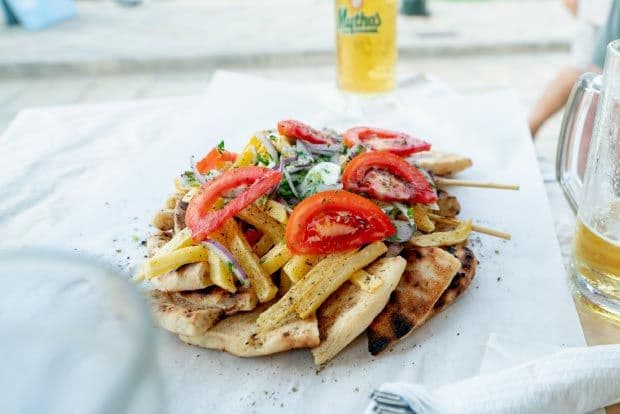 Eat Cheap Around the Islands
Often, we travel by the whims of our tastebuds, and the Mediterranean has tons of delicious cuisine to enjoy, with some amazing cheap eats! One way to save while sailing the Med is to hit the street food venues and stalls for a great taste of what locals often eat.
Enjoy the mighty gyros of Greece, packed in a pita with lamb or chicken and tzatziki for under €3. Alternatively, try the HUGE toasted sandwiches around the Croatian snack shops stacked with tasty options for around €4.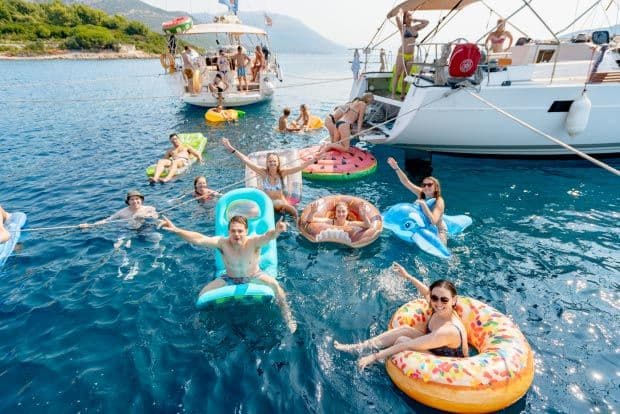 Support Our Floatie Recycling Program and Save
One of the important sustainability initiatives we support each summer is our floatie recycling program. Instead of having every one of you bring your floaties to the destinations, which introduces plenty of excess plastic, we have floaties to rent. Unlike local prices, ranging from €40 to €80, we rent the floaties for around €5.
This program helps reduce the impact on these countries, raises money for local charities or eco-initiates, and helps save you some cash!
Make a Boat "Kitty" With Your Mates
If you book with a group of friends, it can be a good idea for everyone to put money into a pot for dinners, drinks, and snacks. This way, everyone keeps each other in check on the budget while sharing snacks and drinks. Plus, this method makes it so much simpler when it comes to handling bills. It also sets up the perfect way to share starters, so everyone can try all the delicious eats without worrying about food FOMO.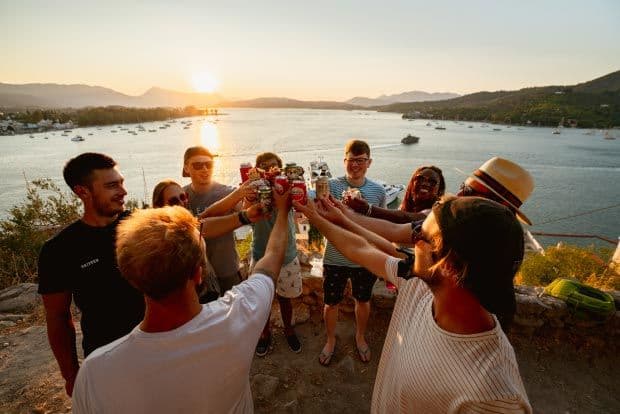 BYO Drinks and Snacks
What makes MedSailors one of the best options for sailing the Mediterranean on a budget? Our bring-your-own policy allows you to bring whatever drinks and snacks you want for the week. Often companies will charge for drink packages and not allow BYO, which can be a shocking surprise by the end of the week. We fully embrace a strong snack game, plus we don't want you to worry about whether those cocktails on the bow are cutting into your activities budget.
Now that you know how to sail the Mediterranean on a budget, the only thing left is to grab those early bird discounts. Book your MedSailors trip today!